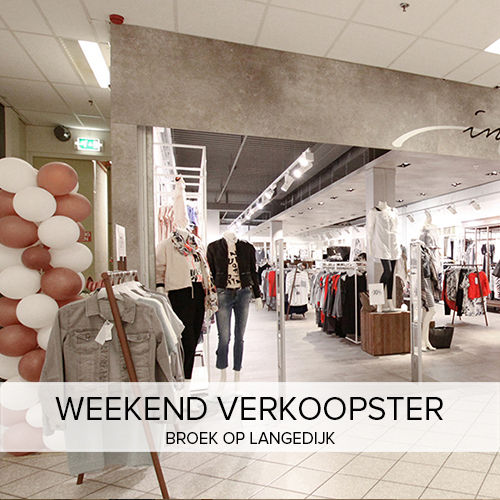 Wij zoeken een enthousiaste Weekend verkoopster
@ Intercity Boutique Broek op Langedijk
Solliciteer direct!
Ben je op zoek naar tof werk of een bijbaan in de fashionbranche naast je school? Dan hebben we dé perfecte bijbaan voor jou! Ben je minimaal 15 jaar en beschikbaar in de vakantie? En ben je daarnaast ook beschikbaar op de koopavond, zaterdag en eventuele koopzondagen? Houd je van aanpakken én gezelligheid? Dan zijn wij op zoek naar jou!

Wij vragen:

• Jij bent zowel donderdagavond als in het weekend beschikbaar;

• Jij bent flexibel inzetbaar;

• Jij bent commercieel ingesteld en krijgt energie van klantcontact;
• Je houdt van aanpakken en bent enthousiast;
• Ervaring in een verkoop gerelateerde functie is geen pré.


Wij bieden:

• Geen tijd voor verveling! Intercity Boutiques is een snel bewegend bedrijf waar elke dag wel iets nieuws gebeurt.
• Een afwisselende functie, waarbij je servicegericht én commercieel bezig bent.
• Gelijkwaardige teamsfeer en teamwork!
• Een dynamisch, gemotiveerd team dat je zal inspireren en ondersteunen!
• Werken in de inspirerende en gerestylde Boutiques te Broek op Langedijk.
• Een héle leuke personeelskorting op al onze producten.
• Gezellige teamuitjes & vette feesten!

Is dit jóuw functie? Tijd om elkaar te leren kennen! Er is veel mogelijk, dus neem snel contact met ons op!
We wachten met smart op je CV! Mail patrice@intercityonline.nl of solliciteer direct via onderstaande button.